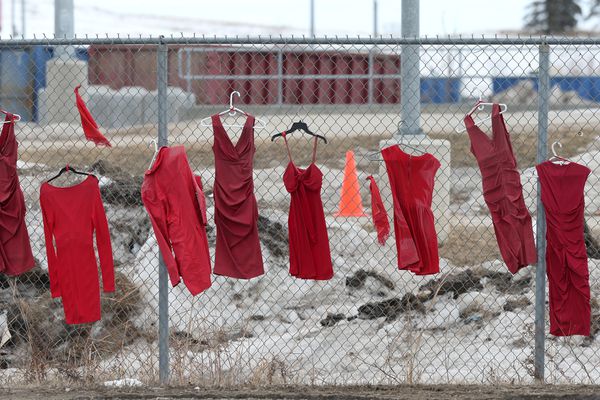 Originally written for Counterfire.
   The Brady Road landfill site in Winnipeg 'is notorious for the discoveries of First Nations women who have been killed and discarded there.' The bodies of two Indigenous women, Linda Beardy and Rebecca Contois, have been found among the city's rubbish at this location while the 'remains of Morgan Harris and Marcedes Myran are believed to be north of the city at the privately-run Prairie Green Landfill.'
   With the demand to 'search the landfills', Indigenous-led protesters had been blockading the Brady Road site since 6 July, after 'Manitoba Premier Heather Stefanson said her government won't pay for a search of the Prairie Green landfill.' However, 'City of Winnipeg crews, with police present, took down the blockade … four days after a judge granted an injunction ordering protesters to clear the road.'
  A new protest camp has been set up that is fittingly located outside the Canadian Museum for Human Rights. It is called 'Camp Marcedes [and it] pays tribute to Marcedes Myran.' Her sister, Jorden Myran, stated that: 'We wanted to open another camp to obviously keep her spirit alive and her name, and we plan to keep camp set up and to protest until the search of the landfill is done.'
Value of life
   In April, after the body of Linda Beardy, a thirty-three-year-old mother of four, was discovered at the Brady Road site, Indigenous people took to the streets of Winnipeg chanting 'we are not trash' and 'search the landfill'. One woman stated that: 'It's important for me to be here today because time and time again Indigenous women, people, are ending up in our landfill … It's not a place for our Indigenous people, it's showing that people think that we're disposable, that we're garbage, that we're not worth any dignity.'
   At this time, Justin Trudeau told reporters that 'my heart goes out to the community in Winnipeg and to the families of the woman who was … left in this way … We will continue to be there with the community as it grieves, but we will also continue to be there to put an end to this unconscionable violence.' Yet, despite Trudeau's empty display of compassion and concern, the horrible situation that has unfolded speaks volumes about the hierarchy in the value of human life that exists in Canada.
   A report that was drawn up in response to the present situation makes it perfectly clear that a search of the Prairie Green Landfill is entirely possible, but that it would involve a major cost. Whether this is considered prohibitive or not can only be decided on the basis of the importance that is placed on dignity and respect for the Indigenous women buried under piles of refuse and the level of concern that exists for their families and communities.
   Cathy Merrick, grand chief of the Assembly of Manitoba Chiefs, has suggested that failing to reclaim the bodies of these women 'would send a dark message to First Nations people across the country that Canada's governments condone the act of disposing of women in landfills.' She added that these 'women were all loved, they were cherished. Families should not feel like the odds are stacked against them in bringing closure to their grief.'
   The Assembly of First Nations (AFN) has denounced the decision and stressed 'that all three levels of government, municipal, provincial and federal, have a responsibility to support the landfill search in Manitoba.' An article in Turtle Island News asks does 'this decision truly centre on technical feasibility? Or is it emblematic of the larger political problem of a lack of institutional will to tackle the ongoing violence towards Indigenous women, girls, queer and two-spirit people in Canada?'
   It is now four years since the Final Report of the National Inquiry into Missing and Murdered Indigenous Women and Girls was issued. This concluded that the disappearance of thousands of women and girls constituted a 'Canadian genocide' and it found that both the violence they faced and the indifference of police and other state authorities were 'rooted in colonialism and colonial ideologies.'
   Though Trudeau initially tried to distance himself from the conclusion of genocide, he reluctantly accepted it and promised his government would 'develop and implement a national action plan' to address the appalling situation. We can see today how hollow that undertaking was.
   Ten years ago, it was found that 'the rate of homicide of Indigenous women … was almost six times higher than non-Indigenous women.' At the same time, the 'failure of law enforcement authorities to deal effectively with the problem of missing and murdered indigenous women and girls in Canada is just one element of the dysfunctional relationship between the Canadian police and indigenous communities.'
Highway of Tears
   One of the most dreadful examples of these failings is that of Highway 16 in British Columbia. For years, it was well known that Indigenous women and girls, forced to hitchhike into the urban centres, were being killed by predatory men. As the New York Times reported in 2016, so 'many women and girls have vanished or turned up dead along one stretch of the road that residents call it the Highway of Tears.'
   The sickening reality is that, despite the fact that the authorities knew of abductions and killings on this stretch of road stretching back to the late 1960s, it was not until 2018 that a shuttle bus service that would enable women to travel in safety was put in place. It was immediately used by thousands of people and filled a vital need that had been long neglected at a terrible cost.
   The readiness to leave the bodies of the women in Winnipeg where they were dumped is rendered even more monstrous by the fact that it is only some two years since Canada was rocked by the scandalous discovery of the remains of hundreds of Indigenous children who had perished in the infamous residential schools. These institutions, which operated from 1890 to 1969, were places of captivity for large numbers of Indigenous children that sought to crush their language, culture, and identity.
   The authorities at the time were fully aware of how lethal these places were. In 1910, the head of the Department of Indian Affairs responded to elevated death rates in the schools with an incredible statement. 'It is readily acknowledged that Indian children lose their natural resistance to illness by habitating so closely in these schools, and that they die at a much higher rate than in their villages. But this alone does not justify a change in the policy of this Department, which is being geared towards the final solution of our Indian Problem.'
   It is significant that Winnipeg should be the city in which the present situation is playing out. It draws its water supply from Shoal Lake on the Manitoba/Ontario border and the construction of an aqueduct was completed in 1919. The Indigenous community that lives on the shores of that lake lacked a water treatment facility until 2021 and, at that time, had lived under a boil water advisory, with no drinkable water, for 24 continuous years. As Vernon Redsky, chief of Shoal Lake 40 First Nation, said as the facility opened, 'it's unbelievable and it's also about damn time.'
   The racism and utter disrespect that is on display in Winnipeg has become a rallying cry for Indigenous people and it has struck a chord in broader Canadian society. The unforgivable decision to leave the bodies of these Indigenous women where they were dumped is an insult that simply can't be tolerated and the landfills must be searched.